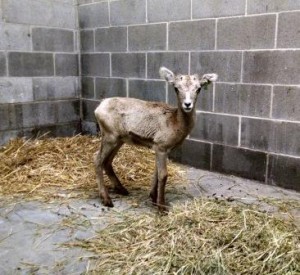 A bighorn sheep lamb is getting another chance thanks to the efforts of the Pocatello Zoo and the Idaho Department of Fish and Game.
The six to eight-week-old lamb was found upstream of Mackay Bar on the Salmon River in June after the accidental death of its mother. Peter Pruett, Zoo Superintendent for Pocatello Zoo, says that after almost two weeks of rest and treatment with antibiotics she's showing a lot of improvement.
"The lamb came to us with some lameness in her left rear leg. She still walks with limp but she is doing much, much better than when she was found," said Pruett.
Pruett also says her treatment will continue for another two weeks. After which, zoo officials will take another look at how to best treat her. 
The majority of the animals arrive at the Pocatello Zoo through IDFG and US Fish and Wildlife Services, Pruett continues that the partnership works well for not only the people but especially the animals.
"This lamb is another great example of how we all come together to give these animals the chance at a long and healthy life," said Pruett.
Visit the Zoo and ask a Zoo Keeper if you have any questions on any of our other animals and how they got to the Zoo!