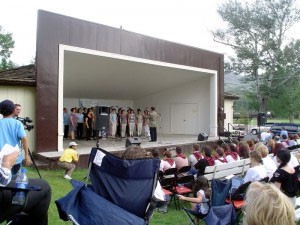 Wow! Something new has come to Pocatello. The Pocatello Zoo Ross Park Summer 2015 Concert Series has begun. Each Saturday night, from 5pm – 7pm there will be free live music in Lower Ross Park. Bring the whole family! What a great evening activity after spending the day swimming at the aquatic center or walking through the Zoo.
The Zoo will also have discounted admission for this evening event! From 4pm – 6pm every Saturday night during the Series admission will be just $2.00 for kids age 3-11 and $4.00 for adults age 12 +. Kids age 2 & under are FREE!
The best part is that you can still hear the music while walking through the Zoo from 5pm – 6pm. Have fun playing at the Treehouse or visiting the goats while listening to local bands!
This is an event we are so thrilled to be a part of, and hope everyone will take advantage of!