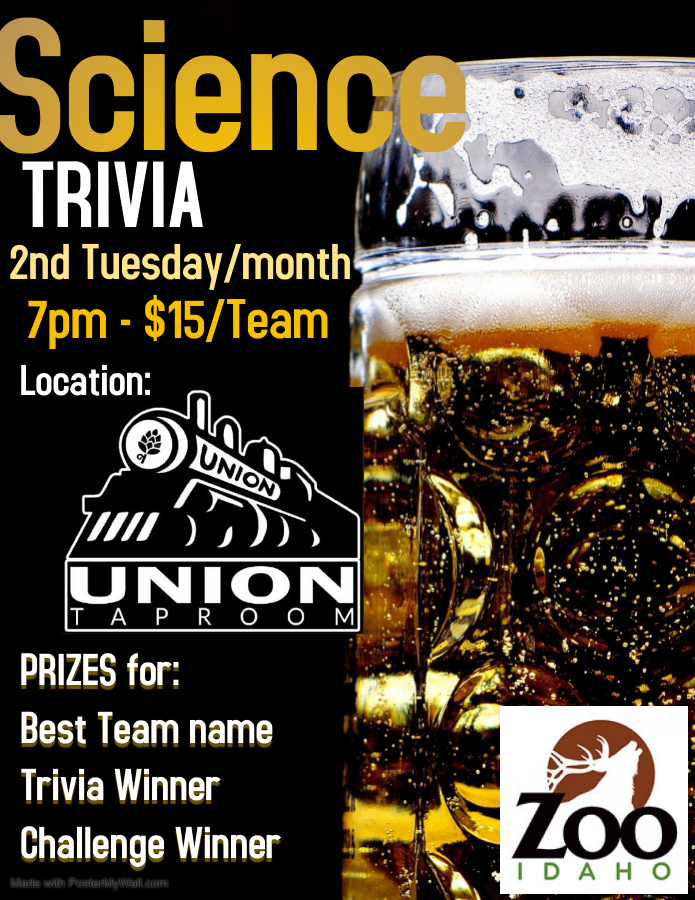 Science Trivia Night
Second Tuesday of Every Month
7:00 p.m.
Test your science knowledge while also participating in an engineering challenge. Prizes will be awarded for the Best Team Name, Trivia Winner, and Challenge Winner.
Cost: $15/team (up to 5 people)
Location: Union Taproom, 230 W Bonneville St
Untamed Art
Fourth Sunday of Every Other Month
11:00 a.m.
Zoo Idaho is partnering with Murphy's Charcuterie to create a unique event for the whole family. Create one-of-a-kind art pieces with instruction from local artists in a bi-monthly art-and-brunch event with new artists featured each month.
OCTOBER 2023
This month Ether's Edge will be teaching us about the power and benefit of crystals. We will learn about different crystals and then create your own crystal jewelry piece to help enhance your life. Enjoy a delicious brunch by Murphy's Charcuterie while immersing yourself in the wonderful world of crystals.
Date: Sunday, October 23, 2022
Time: 11:00 a.m. – 1:00 p.m.
Cost: $35/person
Location: Station Square (200 S Main St, Pocatello)
Ticket Includes: Art supplies, brunch, and mimosas
Proceeds benefit Zoo Idaho education programming
Date Night at Zoo Idaho
Saturday, February 12, 2022
1:00–3:00 p.m.
Celebrate Valentine's Day in style and learn some fun animal mating facts. Cost includes a guided zoo tour about animal mating habits, a zoo gift, and a gift card to a local restaurant. Each tour will be an hour long. Cost goes towards capital improvement fundraising, which we use to improve and build new exhibits for our animals.
Cost: $50/couple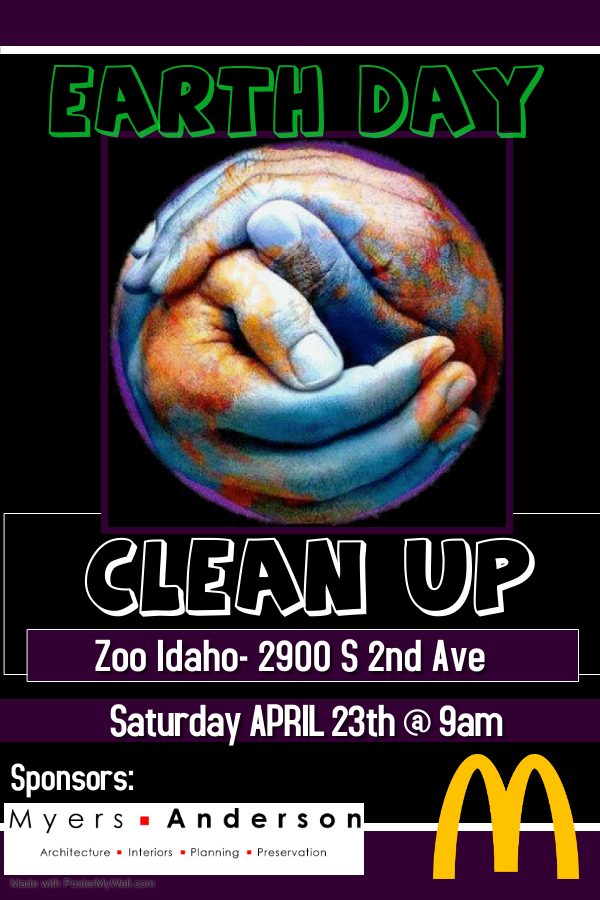 Earth Day
Saturday, April 23, 2022
8:00–10:00 a.m.
Celebrate Earth Day by helping to clean up Ross Park and the zoo. Gloves and trash bags provided as well as treats and coffee.
Mother's Day at the Zoo
Sunday, May 8, 2022
All Day
Mothers will receive 50% off their admission when they are accompanied by a paid child.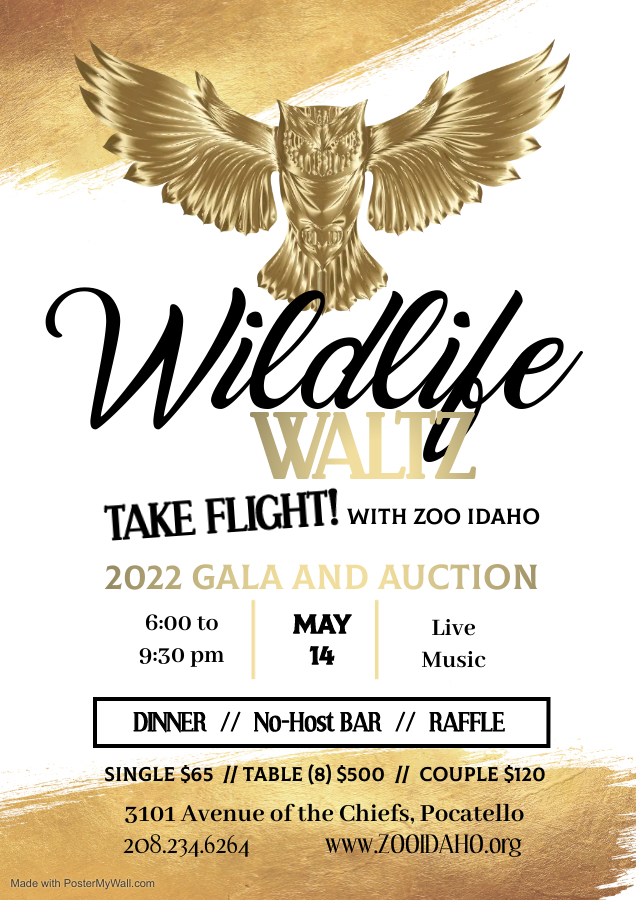 Wildlife Waltz
Saturday, May 14, 2022
Join Zoo Idaho for the premier event of the 2022 season. Wildlife Waltz – Take Flight is an evening filled with celebration, entertainment, and delightful cuisine. Have you ever wanted to feed a grizzly bear? This may be your chance! Help us highlight the many projects of the last year at Zoo Idaho and in the community around us.
Dress: Formal Cocktail
Cost: $65/person, $120/couple, $500/table (8 people)
Endangered Species Day
Friday, May 20, 2022
10:00 a.m.–2:00 p.m.
Participate in 10+ activities provided by local environmental organizations about endangered species and the environment including live animal encounters and more!
Cost: Free with Admission
Cornhole for Critters
Saturday, June 11, 2022
11:00 a.m.–3:00 p.m.
Cost: $10 per team of 2 players

Enrichment Day
Saturday, June 18, 2022
10:00 a.m.–2:00 p.m.
Watch to see our animals sniff, stomp, pounce, and play with tempting "Enrichment" treats designed to exercise their minds and bodies and enhance their overall well-being.
Cost: Free with Admission
Father's Day at the Zoo
Sunday, June 19, 2022
All Day
Fathers will receive 50% off their admission when they are accompanied by a paid child.
Roar & Pour Wine Walk
Saturday, July 23, 2022
6:00 p.m.–9:00 p.m.
Join us for Roar & Pour Wine Walk at Zoo Idaho! This fun evening will help us raise funds for all the exciting things happening at the zoo! It is an adults-only (21+) event. Head over to the zoo for wine tasting and live music! Tickets include souvenir wine glass, wine tasting, and entrance into Zoo Idaho.
Cost: $25 per ticket; $20 for ZIZS member
Zoo Hullaballoo
Saturday, August 13, 2022
Zoo Idaho celebrates the end of summer with a family friendly carnival at the zoo. Community organizations and volunteers provide carnival games, educational crafts, and animal fact stations. Enjoy a day at the zoo with family fun, live music, and fair food.

Free Day at the Zoo
Saturday, August 20, 2022
9:00 a.m. – 3:00 p.m.
Sponsored by Connections Credit Union
As a thank you to our community, the City of Pocatello and the Zoo are offering free admission all day. Proudly sponsored by Connection Credit Union.

Grandparents' Day at the Zoo
Sunday, September 11, 2022
All Day
Grandparents will receive 50% off their admission when they are accompanied by a paid child.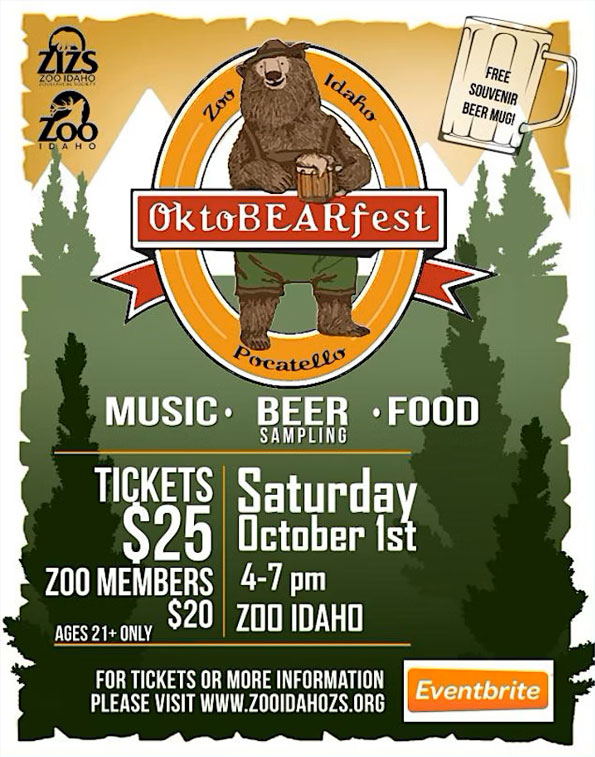 OktoBEARfest
Saturday, October 1, 2022
4:00 p.m.–7:00 p.m.
Raise your glass to beer and animals! Save wildlife! Join Friends of the Zoo Idaho Zoological Society for a beer-tasting event at Zoo Idaho! Enjoy great times and great brews with beer tastings, animal encounters, live music, and food. This is an over 21, after-hours Zoo experience. Free souvenir beer mug!
Cost: $25/ticket ($20 for ZIZS members)

Zoo Boo
Saturday, October 29, 2022
10:00 a.m.–3:00 p.m.
Sponsored by Bingham Healthcare
If you are looking for a howling good time this Halloween, Zoo Boo is sure to deliver. Come dressed in your favorite costume for this Halloween bash from 10:00 a.m.–3:00 p.m. Trick or treat around the zoo and participate in fun activities provided by our vendors. Dress to impress and enter our costume contest: individual and group prizes! This is a not-so-spooky, safe trick-or-treating atmosphere. Have a fanging ghoul time!
Cost: Admission to the zoo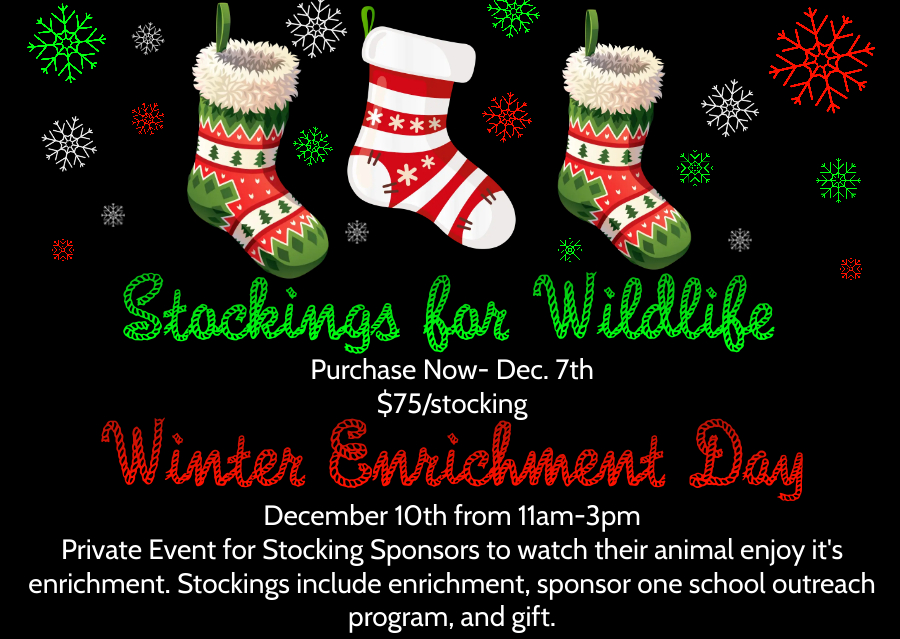 Stockings for Wildlife
Saturday, December 10, 2022
11:00 a.m.–3:00 p.m.
Purchase stockings from Now–Dec. 9, 2022
Sponsor a stocking for one of our Zoo Idaho residents. Stockings include treats and enrichment for the animal, plus sponsors one school outreach program for a local school who cannot afford to pay. Stocking Sponsor Winter Enrichment Day will be on Saturday, December 10 from 11 a.m.–3 p.m. Stocking sponsors are invited to a private event at the zoo to watch their animals enjoy the enrichment items included in their stocking.
Cost: $75 per stocking